Digital fundraising help | Six steps to solving your fundraising obstacles
Author: Alice Page
How to get the team onboard with new fundraising ideas
Innovation in the charity sector has soared and you have a much wider selection of fundraising ideas available to you. Perhaps more than ever before! 
In-person fundraising events are gaining momentum and digital fundraising methods are now essential.
Digital tools and online platforms give all of your campaigns sustainability, strength and salutary. Implementing them into your campaigns can be a much quicker process than you probably think. 
In fact, you can set up a donation page and fundraise with QR codes by the end of the day with Good Thyngs Core – easily!
Once you have set up you it's time to uncover the best ways to use it according to your supporters, volunteers and regional team needs. We documented SSAFA's process and transferred it into a cheat sheet so that we can add a spring to your first steps towards digital fundraising. 
What SSAFA have been up to 
If you're also planning to use cashless technology in your fundraising, consider this six step approach.
Gather the team and start small 
Establish the obstacles 
Understand your fundraisers 
Define your best fundraising techniques
Be flexible with your approach 
Educate the wider team
Six steps to enrolling your first cashless project – don't skip step 6! 
1. Gather the team and start small to get going
For a new initiative, you don't need to change the whole company overnight. Try your new ideas with a small number of fundraisers or branches first. Create advocates who will help you bring others on board. 
Good Thyngs Core can get you set up with cashless donations in minutes. Start with Core, create your donation page and share the experience with your teams. 
2. Establish the obstacles
What factors are preventing your effective fundraising the best you can? COVID-19 is the overarching problem, but narrowing down your individual challenges can prove insightful.
In SSAFA's case, a definable challenge was the knowledge gap of the user base when it came to technology. Learning this, we were able to target that specific obstacle and plan accordingly.   
To stay up to date with your fundraising, we encourage: 
Be

ing

 proactive. Make donors aware of the newly available ways to support.

 

Desig

ning

 an education program around promoting, taking and guiding cashless donations

 

Consider

ing

 o

ptimal placement for 

donation points

, taking COVID 

procedure into account per location.

 
3. Understand your fundraisers – try a survey
Research is crucial in understanding your fundraisers and planning your remote fundraising. Send out a survey to your teams, such as your volunteers or branches. The aim is to pin-point exactly where they are with their understanding of cashless fundraising so that you can be effective with your communication. 
According to a UX survey sent to SSAFA volunteers, 100% of participants said they would be happy to encourage cashless donations if they were provided with clear instructions of use. Yet very few said they were confident in using the payment technology themselves.
This research was crucial in understanding the demographic. Get in touch if you would like a template of the survey used. 
4. Define your best fundraising techniques and why
What has brought you success in the past? Is there a way of replicating it in lockdown? 
For example, SSAFA reported that having a uniformed veteran holding the collection bucket at events led to more donations. Buckets with artwork of medals on them were also more likely to draw attention than ones without. Because SSAFA doesn't have a mascot to promote its brand, the uniform is a signal to donors of the nature of the charity. This was something to factor into the rebranding initiative. 
With the platform you can fundraise whenever and wherever you need to even when you can't be there in person. Therefore, you can get creative with the design to replicate in-person interaction.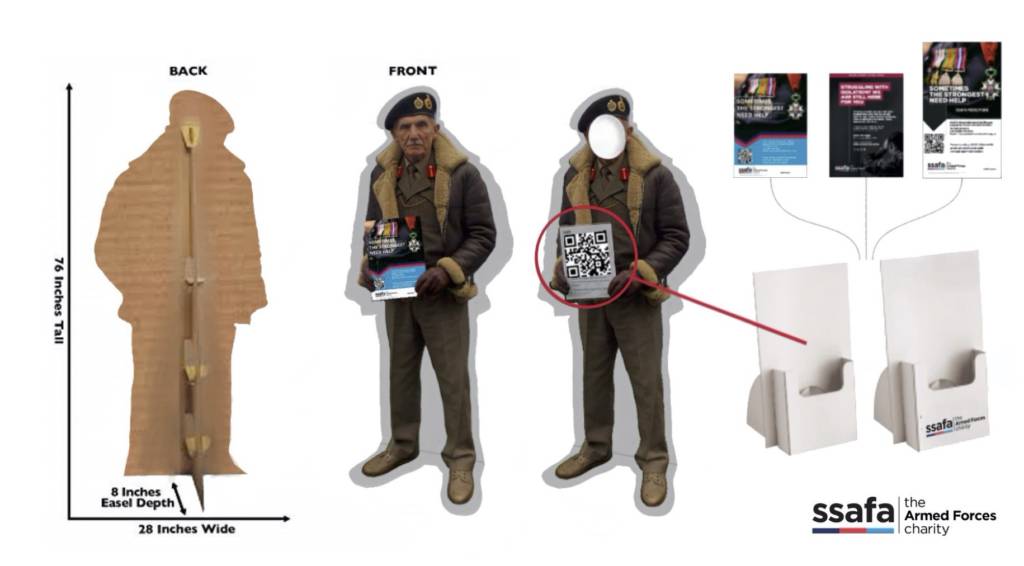 A crucial element to fundraising is identifiable imagery. A distinct brand logo or mascot is an opportunity to develop a connection to donors.  Consider how you can push it further, and how you can utilise your colour scheme and iconography to resonate with users. 
5. Be flexible and diversified in your approach
As explained by Jonathan Sandall, the Director of Fundraising at SSAFA, having a diversified physical and digital toolkit will give you the flexibility to respond fast to changing circumstances. 
Don't underestimate the power of creativity in capturing people's attention. A QR code is a valuable part of your fundraising toolkit, because it will work anywhere and reduce your reliance on cash for fundraising.
You can put them on anything, offline and online. Think of strategic, visually interesting placement for these donation points. Consider selfie experiences, posters, or window-based treasure hunts. 
If the world's oldest military charity can change with the times, it's something everyone can aim for.  
6. Educate the wider team and track the pilot (using a platform)
If your own team is confident with cashless fundraising, your donors will be more confident. Good Thyngs can provide fundraising education resources for expanding your digital reach. Understanding how the platform works gives you more independence and flexibility in how you fundraise.
It's also important to keep track of what people are responding to. For example, are interactions happening from social media traffic, donation links, or QR scans? You can do this using the platform without needing specialist skills. 
Keeping up to date with the user base will allow you to curate the experience for more success. Eventually, once the experience has been tested and revised to a satisfying result, it can be actualised across more branches.
Getting started 
Ready to go for it? Watch a demo and start by creating a donation experience with Core. 
Header image by Victor Ho