Supercharge your fundraising in 2021 – Webinar with Macmillan Cancer Support
Author: Neil Garner
Gain exclusive insight into Macmillan's more innovative Coffee Morning
With Good Thyngs, you can fundraise even if you can't be there in person. Thanks to NHS Track & Trace, QR codes have gone mainstream. This enabled Macmillan to create a successful Coffee Morning campaign despite the challenges of a pandemic. 
Since 2019 they've worked with Good Thyngs to engage donors in new and innovative ways. Since running a cashless fundraising pilot in 2019, Macmillan have gained valuable insight that has enabled them to better understand their donors. 
"Charities must have everything in their toolkit so that they're able to engage and connect with donors in a way that donors want to be engaged with. It's so much more than being able to accept Apple Pay, it's about levelling the playing fields." – Laura Fox Newby, Managing Director at Good Thyngs
Charities with the platform have been able to see the importance of a cashless donation alternative in their fundraising toolkit. 
"Whether you hosted virtually or in social distance, you had your fundraising QR code and URL link. In the physical fundraising packs, hosts received a sticker sheet with their QR codes. These were to be used on posters, takeaway cakes, coffee flasks and more. It was also important to remind hosts of this new way of fundraising with regular communications."  – Androula Papaiacovou, Contactless Income Manager at MacMillan Cancer Support
"Being able to track everything gave key learnings that enabled Macmillan to get bigger and better. Macmillan were able to use the data to better understand their donors and improve moving forward," said Laura. 
Let nothing – not even a pandemic – stop you
Despite the uncertainty of 2020, particularly for events, Macmillan worked with Good Thyngs and The Sourcing Team once again to prepare for any scenario.
Famously, nothing was going to stop them.
The cashless platform is able to quickly adapt to change which helped Macmillan future proof their ideas. With a team thinking outside of the box, hosts were given the invaluable opportunity to fundraise virtually, or in-distance.
Even though another lockdown was on the way, the campaign was still a huge success. In fact,
75,000 donors helped generate £1.4 million in cashless donations, equating to 17% of all Macmillan WBCM donations for 2020.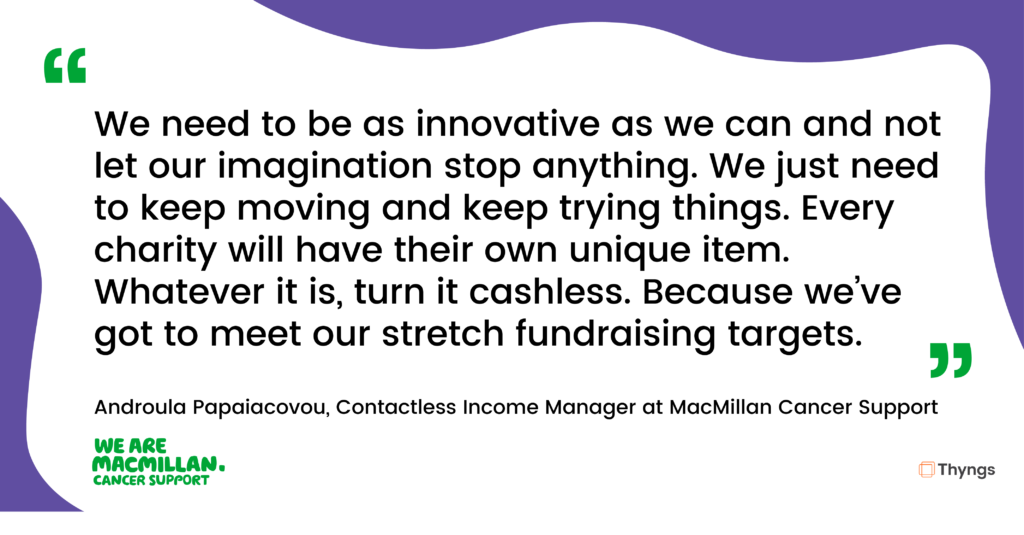 Read the 5 takeouts from the Macmillan World's Biggest Coffee Morning blog and engage your donors in new ways for 2021. Get in touch with us to request a free demo.