You have the tools but are you Virtual Fundraising confident?
Author: Neil Garner
Make your campaigns go further with virtual fundraising
By choosing Good Thyngs, you're already ahead when it comes to cashless fundraising. And you're in good company. Macmillan Cancer Support, DKMS and Cancer Society are just some of the businesses using Good Thyngs to collect cashless donations. 
But, are you virtual fundraising confident? Are you using the system to its full potential, or could you get even better results? 
Here are five ways to make your thyngs do more. 
1. 
Create multiple QR codes and track their every move. 
One unique QR code across all your marketing material won't give you the data to improve. Create a separate QR code for every fundraising asset you need as a cashless donation portal.  
This will generate valuable data and the opportunity to deliver personalised experiences. Personalised experiences have multiple benefits.  
To name a few 
S

plit test 

designs and messaging

 

 

Strengthen donor relationships

 and loyalty

 

Improve individual fundraising
The more thyngs you track, the more data you will receive, and the better you will understand your donors.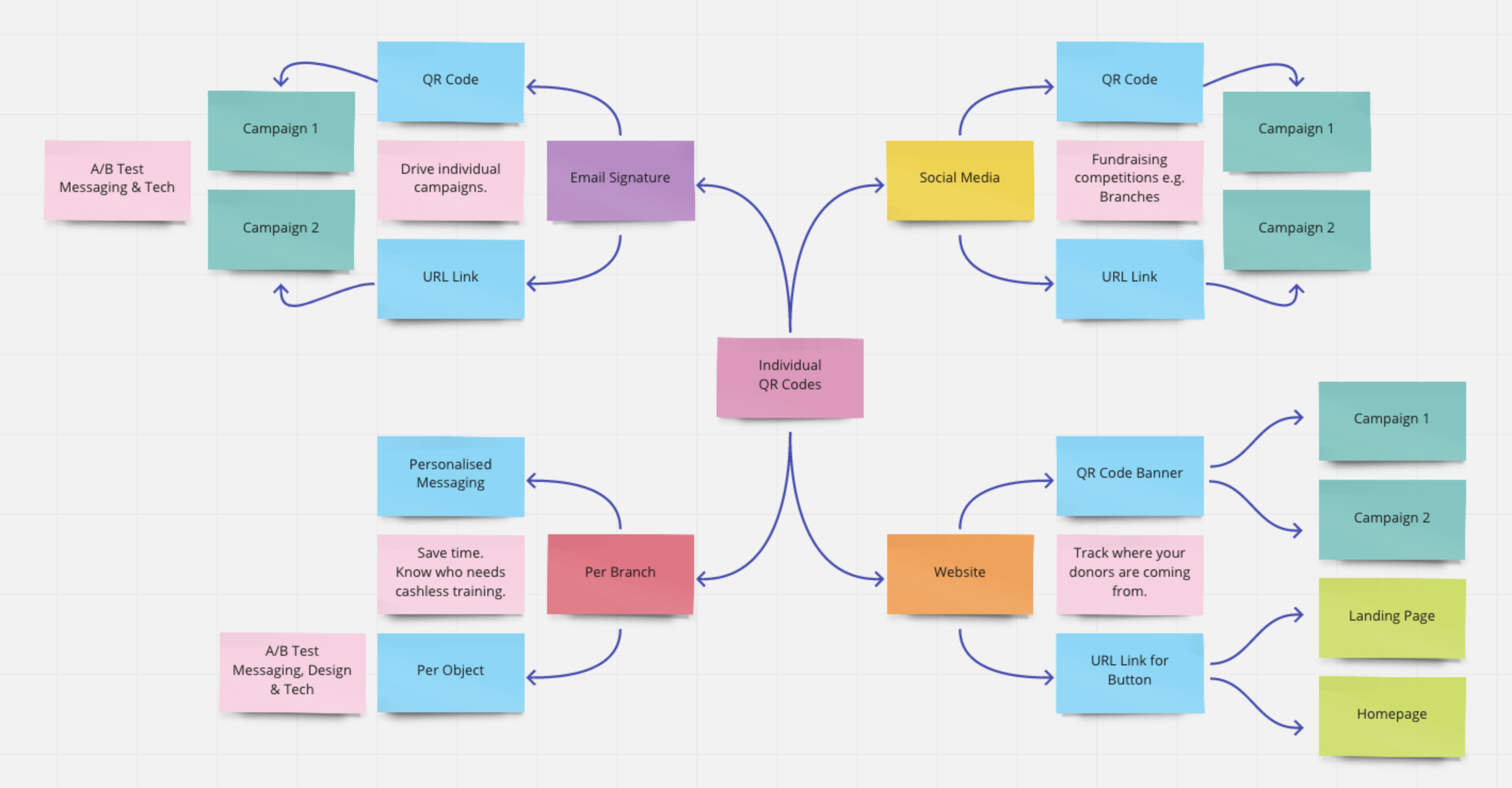 Example: Unique QR code planning.
2
. 
With every QR comes a unique URL. Cover your options.
Include your QR code on social media for extra support from online donors. But think smart.  The QR code will mean nothing to donors viewing it on their smartphone because they can't scan it.  
Always include the 3-tap donation URL to reach every online donor. This sets you up for maximum online support.  
You can find the code on the platform:
Go to: Create – 

Thyngs

 – Thyng Codes  

 

Copy the URL 'Code' and put it behind 'thyg.uk

/

[enter code here]

'
Share the relevant donation codes with your fundraising team to distribute across emails, social media posts, text messages and website links.  
Your volunteers and coffee morning fundraisers can also find the code on-the-go. Watch our 1m video to find the URL without the platform, here.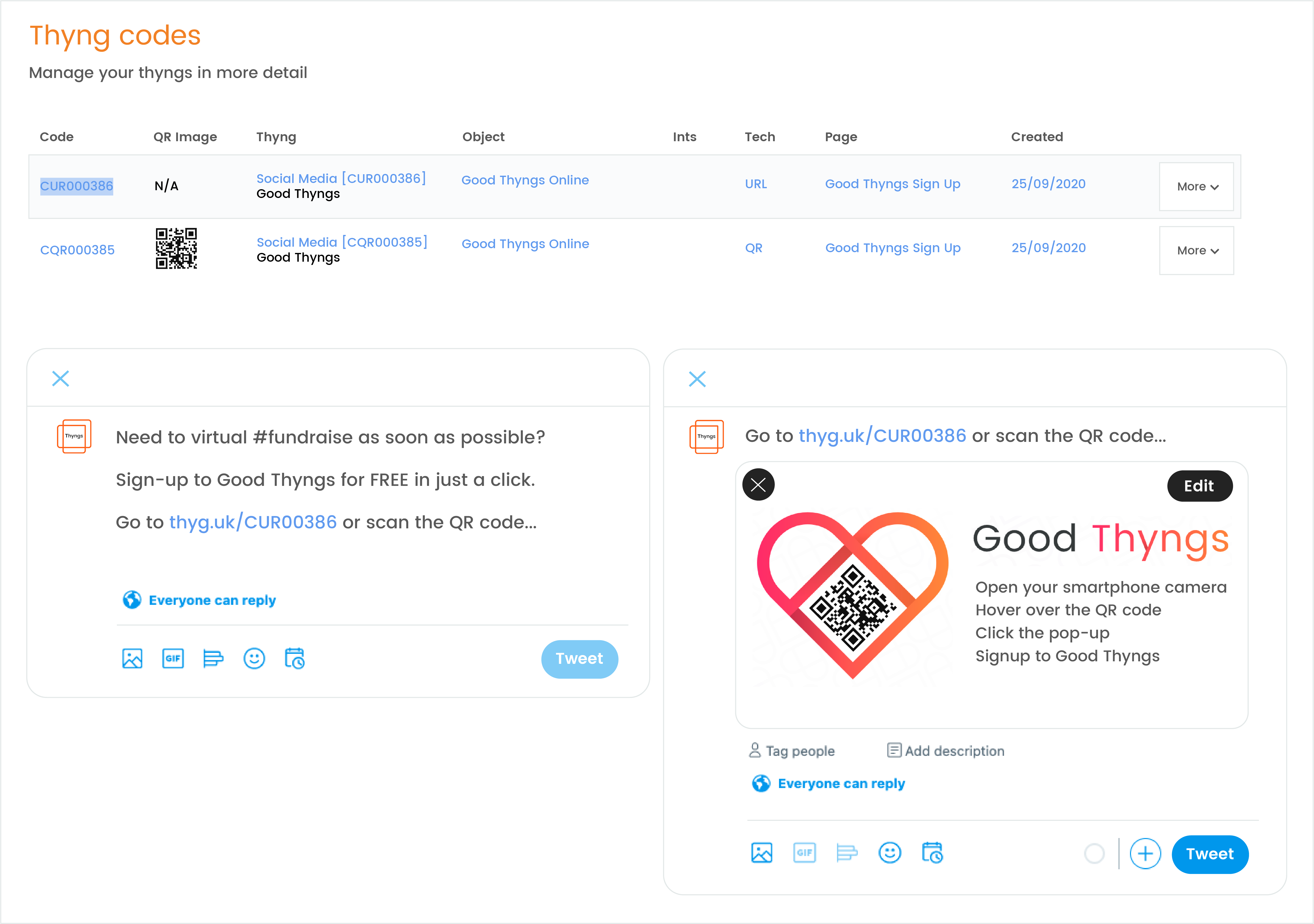 Utilise your Thyng codes on the platform.
3.
Your QR code wants an invite to your Zoom call, too.
Social media is a powerful place to distribute your donation link but it's not your only online tool. Host a virtual coffee morning or fundraising webinar on Zoom and use a QR in the backdrop.
Online backdrops will continue to play a big part in daily business in the post-pandemic era. Especially while virtual palm trees are the closest we can get to the Caribbean. Use this to your fundraising advantage. 
Create a virtual background for the team to generate extra support whenever you are on call. A QR code on your design will enable an extra opportunity to drive your digital campaign. 
Guests on desktop

 can 

scan the QR code with their smartphone

 

Guests on smartphone 

c

an c

lick the URL link in chat

 
If you haven't got the design bandwidth, get in touch for help or use our template.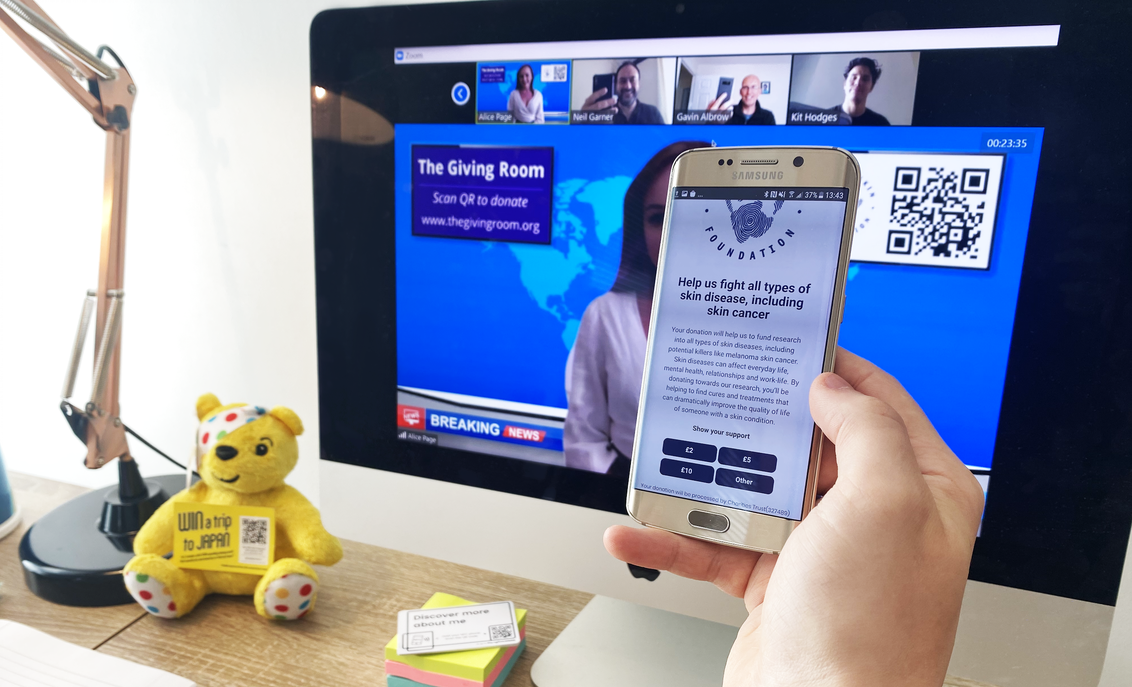 Get the support you deserve, anywhere.
4
) 
Don't throw your 
QR around.
How effective your QR codes are in the real-world depends on how well they are presented. This requires strategic thinking:
Attract 
Your QR code must first attract attention, so keep it clear and of good resolution. Don't overcrowd it. Follow this design guide to learn more about your printed QR codes. 
Engage 
You have three seconds to engage your donors so tell them why their support is important to you. This strengthens your connection.  
Convert  
For your effort to be worthwhile you need to make sure your donors know how to scan a QR code. Provide simple instructions or an infographic that cover both Android and iPhone users. This will get you the conversions. Download our infographics, here.  

5
) 
Education, education, education.
For your cashless campaigns to be successful you need your whole team to work together. Your staff are only going to encourage the technology if they understand it. Confident staff will mean confident donors. 
Educate your volunteers and fundraising teams. Show them how the technology works and why it's valuable to your charity. Encourage your team to try it out for themselves. 
Arrange a team meeting, send out a group email, or contact us for a fundraising webinar. The louder your cashless voice, the more donors you reach, and the more support you receive. 
You are set up for the results 
you 
deserve.
QR codes have become an everyday essential in a touch-free world. Yours are more powerful than the rest. Use them effectively. Make your 3-tap donation codes stand out from a black and white crowd and improved conversion rates will follow.  
Was this useful? Let us know how we can help or support you.